Our company operates as Conformity Assessment / Notified Body and System Certification Body for ISO 9001 Quality Management System within the scope of Machinery Safety Regulation (2006/42 / EC) and Regulation on Gas Burning Devices (2016/426 / EU). in the scope of ISO 9001 Quality Management System audits REPUBLIC OF TURKEY borders, gives certification services.
Our company:
Product Certification Body by TURKISH ACCREDITATION INSTITUTION/TÜRKAK,

TURKISH ACCREDITATION ORGANIZATION / System Certification Body by TÜRKAK,

T. C.

A 2430 Notified Body has been assigned as a notified body by assigning the 2430 Notified Body ID number by the MINISTRY OF SCIENCE, INDUSTRY and TECHNOLOGY and the COMMISSION OF THE EUROPEAN UNION.
BENART was established as a Turkish Company with 100% Domestic Capital.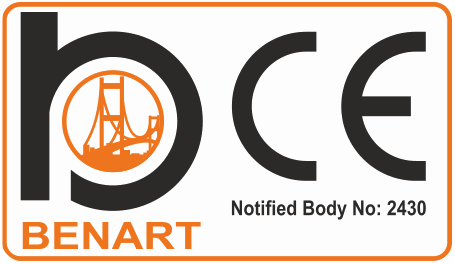 Correct address..
Type A Notified Body ...
Reliable Service ..
Expert Staff and Experience ...
The Right Result ..
Increasing Customer Satisfaction Every Day ...